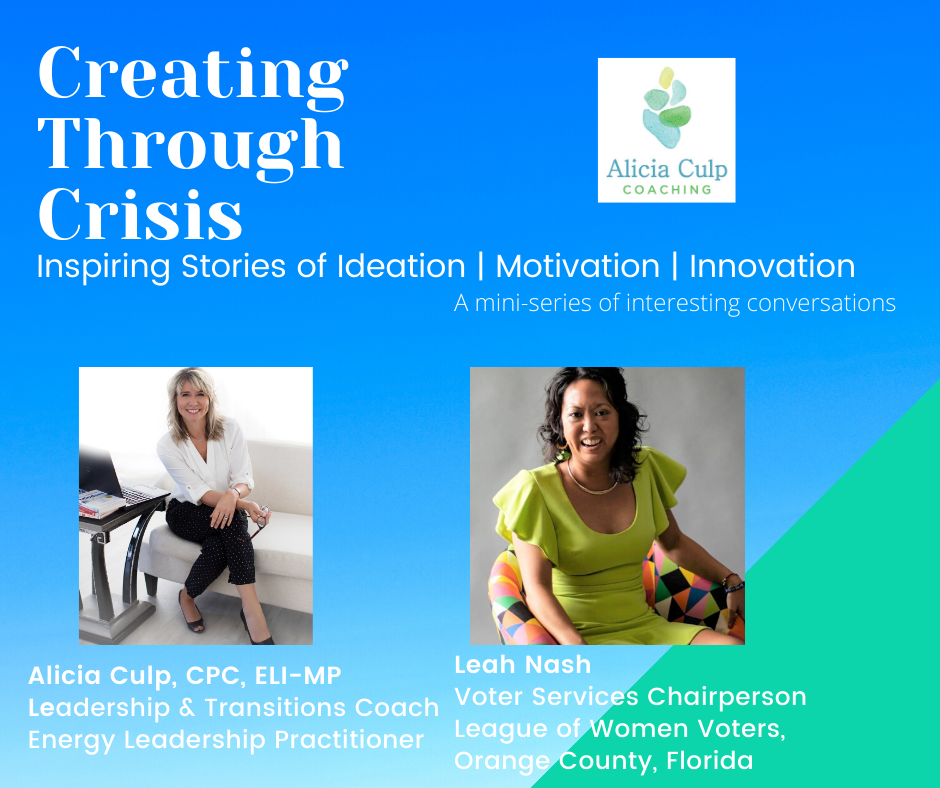 During this episode of Creating Through Crisis, Leah Nash, Voter Services Chairperson with the League of Women Voters of Orange County, Florida, joins me to share how this non-partisan, grassroots organization has informed voters through careful policy review and programming for 81 years in our community.  LWVOC members gain experience working on issues that they are passionate about and influence public policy while meeting with elected officials, organizing events and programs, and educating the public across multiple platforms.
Your Vote is Your Voice – Speak Up!  Register or update registration information by July 20th.
To learn more, get involved, or donate, check out the League of Women Voters Orange County at https://www.lwvoc.org/
About Leah Nash
When asked to write your own bio, what do you say?  I can tell you about my work experience and accomplishments but I think you'd rather know about WHO I am.  So who is Leah Nash?   I am a woman who: Has survived divorce; Lives with a chronic disease; Worked for over 20 years; Is proud to be Tita LeeLee (what my nephew calls me); and goes by the alias of Leah Love because that is what I believe in the most.  I love people (most of the time); I love Orlando; I love LOVE.  One of my focuses over the past few years has been voter services for the League of Women Voters of Orange County and this year we are encouraging online voter registration and Vote-By-Mail so that voices are heard in the safest way possible.
Watch the episode here: